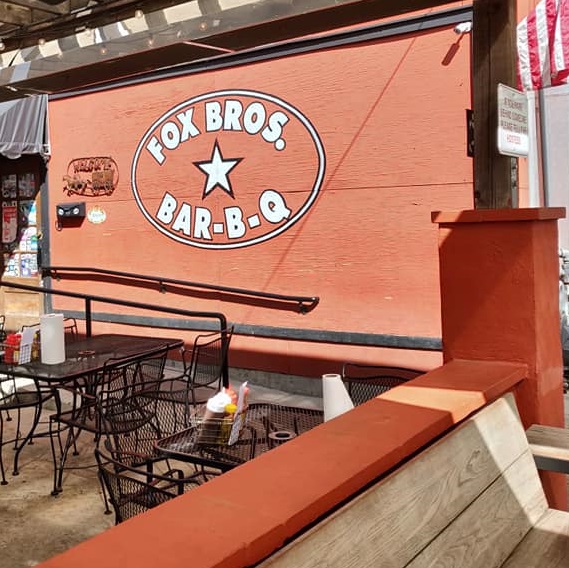 Justin and Jonathan Fox grew up all over Texas and brought their love of Texas barbecue with them when they settled in Atlanta, Georgia. They began tinkering with cooking the familiar flavors of central Texas in their backyard near the turn of the century and soon began to contemplate how to take it to the masses. The Fox brothers began throwing large backyard parties and eventually started providing catering services in addition to serving at their friends and eventual business partners bar. 
When an opportunity arose to open their own place in 2007, they jumped on it and were well on their way. Fox Bros Bar B Q opened on Dekalb Avenue and began bringing their brand of barbecue to Atlanta full time. With an extensive menu of Texas BBQ staples alongside creative items like their chicken fried pork ribs, Fox Bros Bar B Q has been a staple in the Atlanta dining scene for over a decade. There are now Fox Bros outlets inside of BMW Stadium as well as outside the Atlanta Braves ballpark, and the future continues to look bright for Justin and Jonathan. 
In addition to being successful restaurateurs, the Fox brothers are also extremely active in giving back whenever they can. Their joint venture with Home Team BBQ, Foxeria Del Sol, helps to raise money for Hogs for the Cause, a charity that provides financial assistance for families that are battling pediatric brain cancer. They've raised over $400,000 in the past five years for this cause. Good folks championing great causes and making memorable barbecue, Fox Bros Bar B Q is a business we should all be happy to support.
Original location:
1238 Dekalb Ave
Atlanta Ga 30307
Hours: Sun- Thurs 11am-10pm
Fri-Sat 11am-11pm
Que-osk, fast service walk up:
120 Ottley Drive
Atlanta, GA 30324 .
Hours: Mon-Fri  7am-10am and 11am-2pm 
Mercedes Benz Stadium
SunTrust Park