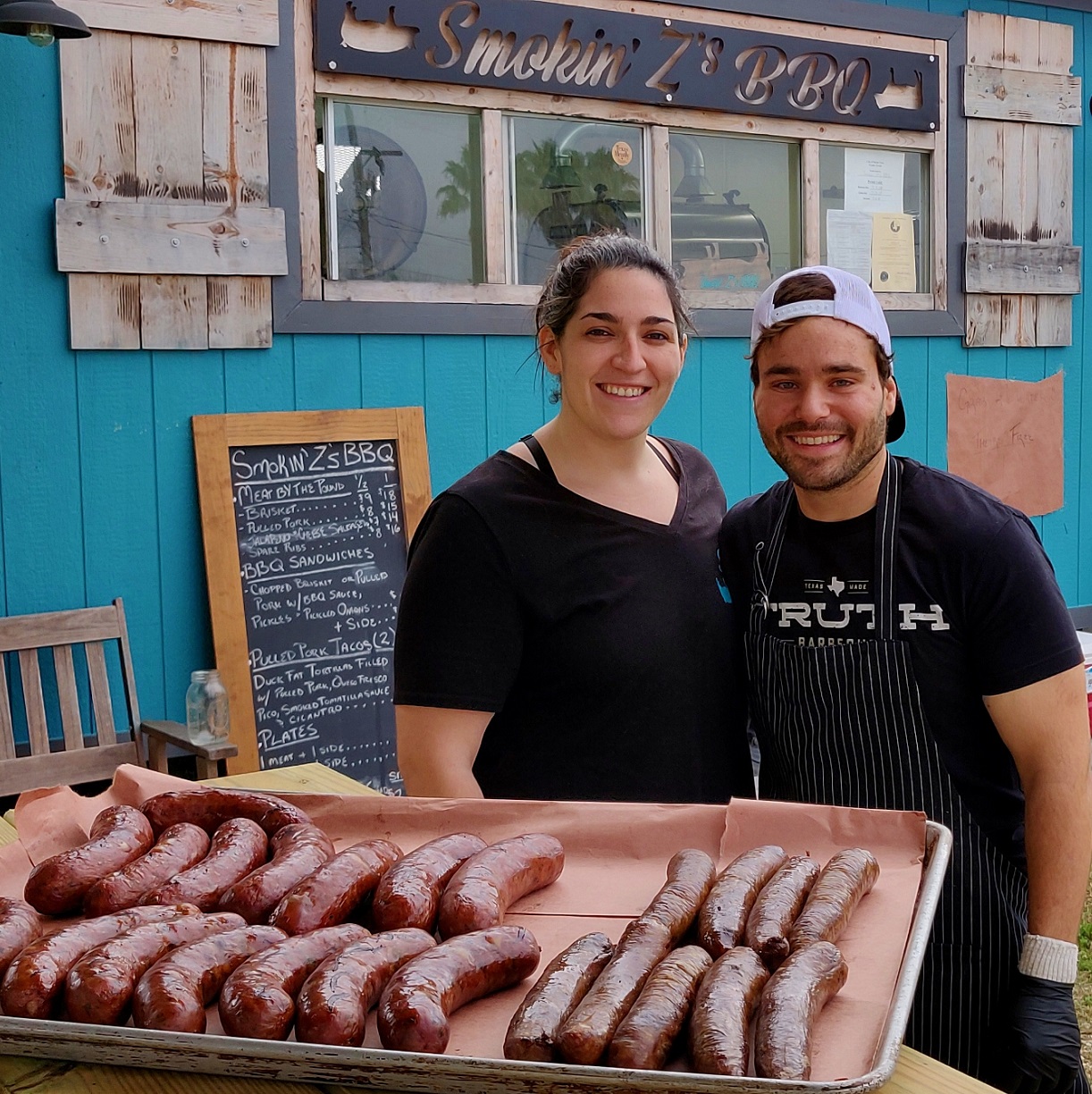 Smokin' Z's BBQ
Smokin' Z's BBQ opened in Bayou Vista, TX less than a year ago, but young business owners Zaid and Mallory are already producing a menu of quality barbecue that is a welcome addition to the waterfront community of which they are a part.
Zaid's passion for barbecue grew from his love of cooking and his family's background of hospitality. A high school teacher showed an interest in Zaid and offered him her old BBQ pit, and he soon began tinkering with smoking meats. 
When Zaid and Mallory met after high school and settled in the communities around Galveston island, they began doing small catering jobs for friends. Zaid's passion for Texas barbecue grew as he visits places like Truth Barbeque and became more aware of the craft barbecue movement.
The young couple purchased a food trailer and, after a few regulatory hurdles that often arise with new businesses, opened on weekends in Bayou Vista. Serving a menu of the essentials (brisket, ribs, pulled pork) along with embracing the craft of sausage making, Smokin' Z's BBQ has been a hit amongst the locals. They've also introduced creative menu specials such as tacos using Caramelo duck fat tortillas, brisket grilled cheese, and more. This is a truly family operated business with both Zaid and Mallory working to produce the menu and serve each weekend.
Smokin' Z's BBQ
Open Saturdays & Sundays: 11 am - sellout
3115 Hwy 6
Bayou Vista, TX
Instagram: @smokinzsbbq
Twitter: @smokinzsbbq
Also mentioned on this episode:
Caramelo Tortillas: https://www.caramelotortillas.com/
Sausage Kings of Austin: https://www.facebook.com/events/347167755890795/
HouBBQ Fest: https://houbbq.com/
Red Dirt BBQ Fest: http://reddirtbbqfest.com/
Pints in the Park: http://www.pintsintheparkwaco.com/  (Date to be announced soon)