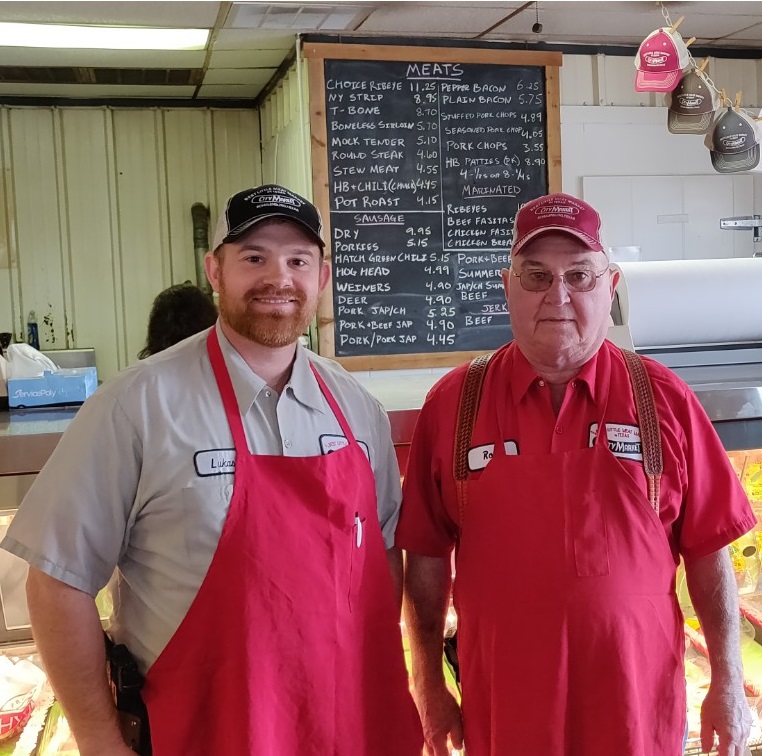 Before large scale meat packers and fast transport allowed for meat products to be cut offsite and sold by the case, towns were served by local meat markets and butchers who broke down entire animals and large cuts, called primal cuts, into portions that the end customer purchased. Unsold meats and the left over trimmings weren't tossed away, they were utilized in sausage. The art of sausage making came to Texas via Czech and German immigrants and you can still experience these meat markets, homemade sausages, and hot barbecue on the weekends across Texas. Many open early and they are a great first stop on a Texas barbecue road trip.
After deciding the big city life wasn't for him, Lukas Smrkovsky returned to his hometown of Schulenburg, Texas and is carrying on his family's meat market and sausage making legacy into their third generation.
City Market in Schulenburg has been part of the Smrkovsky family legacy since 1944 starting with brothers Rudy and Tony. Rudy bought out his brother in the early 1960s and in the 1970s moved the operation from downtown Schulenburg to where it is now, right on Highway 77 just south of I-10. Rudy's son Roy and his wife Carolyn took over the business in the early 1980s and Roy's son Lukas now oversees the day-to-day operations which includes producing approximately 10,000 pounds of sausage every week.
City Market is a classic style meat market which offers a variety of cuts for retail, over two dozen types of scratch made sausage, and their famous hot dog wieners. Be sure to try their jalapeno sausage, not overly spicy, and Schulenberg City Market may have been the first to develop the variety. On Saturday mornings they serve a BBQ menu out of their over 40 year old brick pits including brisket, ribs, sausage, pork steak, and chicken.
Check out this ad for City Market from 1952:
https://texashistory.unt.edu/ark:/67531/metapth569495/m1/9/
Schulenburg City Market
109 Kessler Ave.
Schulenburg, TX 78956
Mon-Fri: 8 am - 5:30 pm
Saturday: 8 am - 2 pm