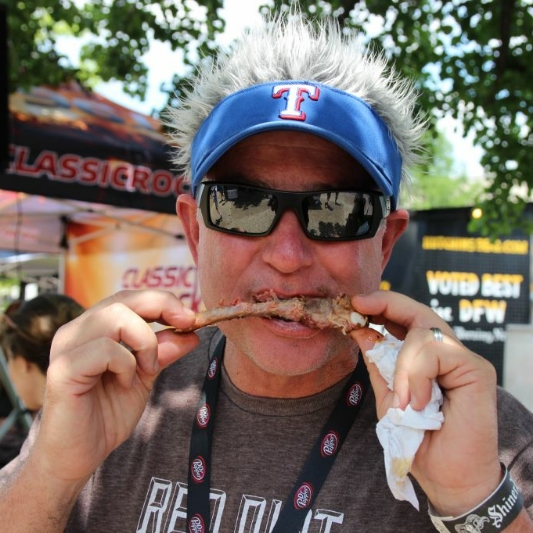 For years Chase Colston dreamt about bringing a festival to downtown Tyler, Texas. His persistence paid off when after years of trying, Chase was able to convince his employers at Townsquare Media to help him launch the Red Dirt BBQ and Music Festival. Held every spring since 2014, the festival has grown every year into one of the best in Texas. 
The 2018 barbecue line up is incredible with joints like Black's Barbecue, Bodacious Bar-B-Q, Evie Mae's Pits Barbeque, LeRoy and Lewis BBQ, Louie Mueller Barbecue, Roegels Barbecue Co., Truth Barbeque and many more leading the way.
The music line up is equally strong with Read Southall Band, Josh Weathers, Koe Wetzel, Pat Green, and headliner Aaron Watson taking the main stage. 
Affordable beer prices, a relaxed atmosphere, great music, and some of the best barbecue from all over the state converging in one place make this a unique festival and highly sought after ticket. VIP tickets sold out in minutes and within 48 hours the entire festival sold out this year! But wait...we've got tickets to giveaway!
Not only was Chase kind enough to give us a pair of tickets to give away, but one lucky person is going to win a pair of VIP tickets to this year's festival!
This our "spread the word" contest. We want as many people as possible hearing the stories of these great BBQ people that come on our show. If you want to try to win the Red Dirt VIP tickets, here's how:
1. Post your favorite bbq picture on your Instagram page, tagging us (@talesfromthepits) and red dirt (@reddirtbbqfest). 
2. In the photo caption tell your followers to subscribe to our show on their favorite listening app and follow both us and Red Dirt on Instagram. 
3. Tell your followers to comment on your post letting you know they've followed us.
4. The comment portion of the contest will end at 11:59 pm central time on Saturday, April 7th. The five posts with the most comments will be entered into the drawing for the VIP tickets.
A huge thanks to Chase Colston for this great gift for our listeners. Lead by a stout roster of great BBQ joints serving up samples by day followed by a concert featuring top Red Dirt Music acts by night, Red Dirt BBQ and Music Festival is a must attend event for BBQ and music lovers alike.